Garage Insulation Installation in Greater Cincinnati, Dayton, Northern Kentucky and South East Indiana
Watch how to make the floors above your garage warmer!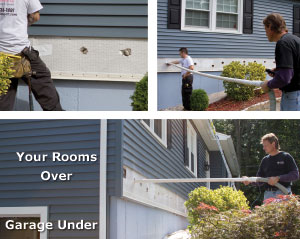 Correcting a construction error. The builder didn't insulate the garage ceiling, but Dr. Energy Saver Cincinnati can do the job quickly and affordably by installing dense-pack cellulose. Exterior siding is replaced after the blown-in installation.
Why make a fuss about energy-saving improvements in the garage? After all, this is just a place to park cars and store stuff like tools, bicycles, sports gear and trash cans.
If your house has a detached garage, then there is truly no worry about garage insulation and it's effect on the comfort and energy efficiency of the house. However, an attached garage that is poorly insulated can absolutely affect your home's comfort -- especially if you have a finished room over the garage.
If you want to improve your garage insulation, call the local experts at Dr. Energy Saver Cincinnati today. We provide complete insulation solutions for homeowners in Dayton, West Chester, Hamilton and the surrounding areas.
Did the builder do it right?
When a house is built, the common wall and ceiling between the garage and the home's living space should be air-sealed and insulated. However, builders sometimes skip this step. Dr. Energy Saver Cincinnati can inspect your garage and correct garage insulation problems.
Since most houses have attached garages and therefore a structural connection between these spaces, there's also a thermal connection. If you have an attached garage, there's a good chance that insufficient garage insulation is compromising your comfort and costing you money, especially if you have a room over your garage.
Depending on how your garage is used and how your house is designed, upgrading garage insulation may have a big impact on comfort and energy efficiency in the rest of the house.
Garage insulation options for Ohio residents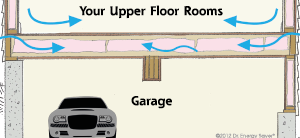 Garages can cause your house to lose heat in winter and be a source of heat gain in summer. Cold (or warm) air infiltrates the garage ceiling assembly and makes its way to the living space above.
Insulating the garage ceiling
It's essential to insulate the garage ceiling if there is living space above the garage. Without garage ceiling insulation, the living space above the garage will be uncomfortably cold in winter and hot in summer. You'll be wasting energy nearly all year round.
Insulating garage walls
When the garage is attached to the house, the wall that separates the garage from the living space should be air sealed, insulated and finished with fire-rated drywall.
Insulating the garage with rigid foam

SilverGlo™ rigid foam insulation installed by the experts at Dr. Energy Saver Cincinnati, can provide insulating and air sealing value superior to other types of garage insulation. SilverGlo™ offers high R-value, durability (it won't compress like fiberglass) and immunity to mold and moisture damage. Plus it has an integral radiant barrier for additional energy savings.
Insulated garage doors
There are two types of doors in garages: those for people and those for cars. A people-type garage door should be insulated and weatherstripped for energy efficiency, and rated for fire protection specified in local building codes.
What about a workshop?
Many people like to use the garage for carpentry, woodworking or automotive projects.
If you have a garage workshop, it pays to insulate the garage so that you can work comfortably regardless of weather conditions outside.
When it comes to the larger garage doors used for cars, many homeowners choose insulated versions as well, either when a house is built or when replacing old garage doors.
Insulated garage doors have cores that are filled with foam insulation, and metal "skins" that are often textured and detailed to look like old-fashioned frame-and-panel doors made from a solid wood design.
Although insulated garage doors are more expensive than uninsulated "economy" versions, they're often well worth the extra investment. In addition to improving energy efficiency, the door's insulated core helps to prevent the metal surface from being dented and bent out of shape. Home insulation is very important to a home's overall comfort and efficiency.
Expert garage insulation services in Dayton & nearby
Dr. Energy Saver Cincinnati are the local insulation experts you need for all your garage insulation problems. Call us today at 1-844-385-8901 or fill out the online form to schedule a free estimate for garage insulation in Dayton, West Chester, Hamilton, Cincinnati, Springfield, Middletown, Fairfield, Covington, Ft Mitchell, Richmond and throughout the surrounding areas.
We also offer a comprehensive home energy audit to identify all the areas within your home that could be causing some high utility bills and discomfort.
Looking for a price? Get a no cost, no obligation free estimate.